Last Minutes Deals - Car Rental with Driver - Pick you up within 30 minutes - 2 hours
here please rent our transit service in last minutes according to the following processure:


add wechat account by our ID: 18210845233 or BJTravelTAXI ; or WhatsAPP: +8618210845233 ; or text short message: 8618210845233

call us at 8618210845233 to remind us to read the message if we don't reply after 5 minutes

we will quote to you according to your itinerary

if you agree with our price, please text to us:




(1) hotel name and address




(2) room number




(3) your full name




(4) cell phone for incase

our driver will head to the hotel as soon as possible, and wait for you at the hotel lobby holding up a paper printed your name.
Importment Notes:
calling service hours: 5:30 - 19:00

the minimum hours to book: 3 hours chartered transit service

the time from dispatching to arriving: depending on the distance between the driver and the hotel, depending on our experience, if you are:




(1) inside 2nd ring road, 0.5-1 hour;




(2) inside 3rd ring road, 1-2 hours;

Although there is no guarantee that we will be able to arrange the car on time all the time, but we will try our best to do that.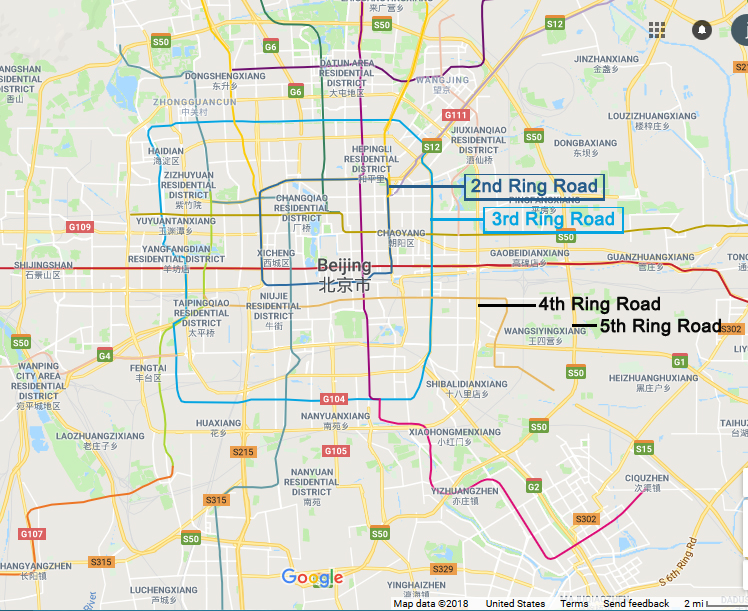 Newest Case:
on 10:37, July 09, 2019 Sharyar contacted with Jay by whatsAPP, they 3 pax hoped to visit mutianyu great wall as soon as possible, they just visited the tiananmen square, Jay told them to walk to Beijing Hotel to wait for the driver, 15 minutes later, our driver picked them up at Beijing Hotel, after 1.5hours, they arrived at mutianyu:

picked up at Beijing Hotel

arrived at mutianyu 
Typical Case 1 (from downtown hotel):

on sept. 29, Laura added our wechat "BJTravelTAXI" Id on 7:26, we assigned the driver David Li on 7:47, David arrive at the New World Hotel inside 2nd ring road on 8:13. Laura wrote the review on tripadvisor.com after the transit service of mutianyu great wall and summer palace:

Perfect day!:
Trip was awesome. We didn't book anything in advance because we wanted to play it by ear. However, the morning of, we worried we wouldn't be able to get a good price. We found 3B and they answered our WeChat in minutes with a quote of less than half of the hotels quote for Great Wall and Summer Palace.

David Li was a great driver - gave us tips on what to do and see, and had bottled water, bananas, and gifts for us. And we were able to set our own schedule which you can't do with a tour. Highly recommend!

https://www.tripadvisor.com/Attraction_Review-g294212-d13476383-Reviews-3B_Taxi-Beijing.html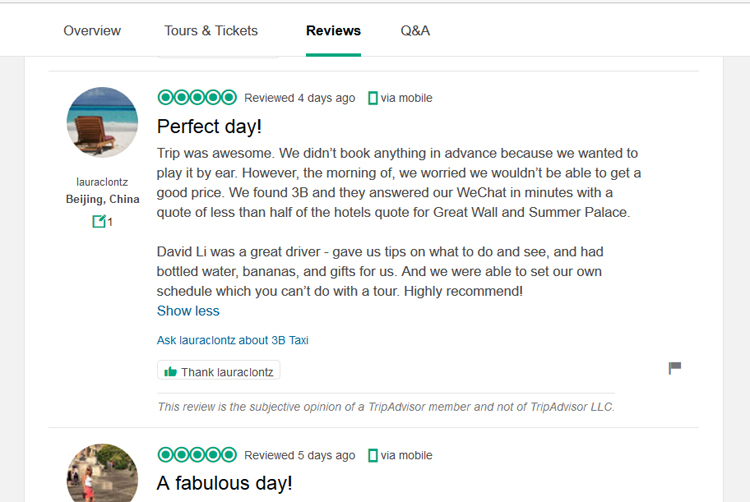 Typical Case 2 (from PEK airport):

on Oct. 17, Juan called us on 6:13 from Terminal 3 of PEK airport, then connected by WhatsAPP, we assigned the driver Mr. Bian on 6:25, the driver Mr. Bian drove to terminal 3 of PEK airport on 8:05, the guest said after the trip:
Thank you for setting up the driver today, We had a great time, Safe driver, On time, Very courteous. Thank You!